UPDATE: Courthouse Killer Caught Wearing Pajama Top
Introduced to revolutionary new Handcuff/police escort program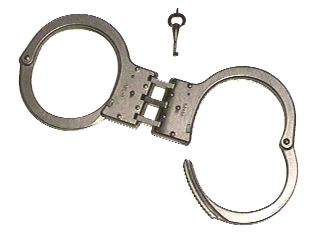 Brian Nichols (top), is escorted into an air-
conditioned SUV, with a revolutionary new
"hand-cuffing" device (bottom),originally intended for a 2006
release to law enforcement.

Duluth, Ga.
--Fugitive Atlanta courthouse killer Brian Nichols, was
captured just a few minutes ago
in a Duluth apartment complex.
"Brian Nichols is in custody. He turned himself in without incident. Everybody is safe,'' said Officer Darren Moloney of the Gwinnett County Police Department.
Witnesses say Nichols was wearing only a pajama top, and was heard to be mumbling about being "late for my trial." A toddler fell out of his pocket during the original "pat-down" procedure as well.
Nichols' high-risk rendering has Georgia police authorities prematurely enacting a prototype incarceration program--one where violent, gun-wielding offenders have their limbs shackled to inoperable degrees, and are escorted by police officers.
"These measures may seem draconian, " said one deputy district attorney for the city of Atlanta. "But I assure the leaders of the black community that all handcuffs are ergonomically conducive to maintaining the reflexive, digital dexterity required to squeeze off multiple rounds in the event he acquires another firearm while in a courthouse."
The Rev. Jesse Jackson, who has already voiced complaints that racial profiling would result in the capture, said that the measures were "too reminiscent of the slave trade," and that this situation would "set back race relations 200 years."
It is not determined exactly how Rev. Jackson was able to phonetically pronounce "reminiscent" in public.
Still
developing . . .